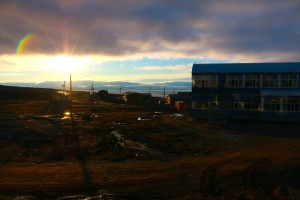 The amount of sunlight that seeped through the curtains as I woke up indicated that there was a bit of fog this morning. A glance out the window confirmed my suspicions. I rolled out of bed and completed my pushups and sit-ups for the day. Actually, I fell behind a few days ago, so I did twice as many today to start to make up lost ground. It has become a necessity to incorporate this into my morning routines up here. It is not common for people to go on runs around here, partially due to the ever-present risk of running into a bear or other large mammal. Although I would love to see a bear at some point on this trip (at a safe distance), I would prefer not to see one when I am a mile outside of town by myself with no defense except the blindingly reflective qualities of my Irish skin. As a result I have taken to doing these minor workouts to hold off accumulating too many pounds from all of the delicious meals provided to us by Nadene and Johnny. I have never left a meal hungry that's for sure. When I first signed on to come to the Arctic I thought meals would consist of Ramen noodles and bread! I could not have been further from the truth.

The community aspect of this project is part of what makes it so great. In each city we visit, Matt has established a relationship with the local Hunters and Trappers Organization (HTO) and individuals at each location have offered to assist us with our work. These relationships are critical to the success of this project – without local help and knowledge we would limp along each step of the way. The HTO of Kugluktuk assists in many other scientific research studies to help understand their ecosystem. They have participated in shorebird studies, caribou tracking, fish population monitoring, and much more. Jorgan and Christian, our two local research assistants, are prime examples of this commitment from the community to continue adapting their knowledge base for the organisms and environments they interact with on a daily basis.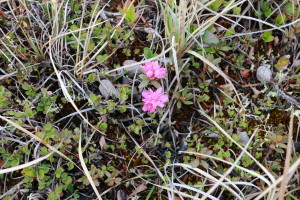 Today Greg and Matt headed down to meet Christian and Jorgan at the Kugluktuk HTO to teach them how to collect the water samples. While they went to do that, Rob and I stayed behind at Enohkuk Inn to hold down the fort.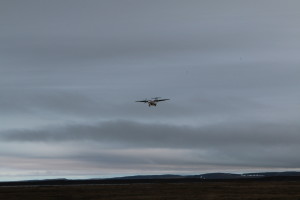 One of the great aspects of this trip has been the ability to catch up on several things that I have not had the opportunity to work on since last summer. I grabbed a cup of coffee and got to work. We worked through lunch and chatted with Johnny and Nadene. Greg and Matt did not get back from collecting samples until about 3:00 PM, but when they had settled in we checked to see if they were interested in going for a hike. Greg agreed, so we packed out bags and donned our boots.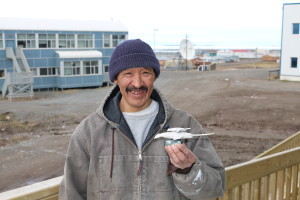 The hike started out on the high ground to the south of town. We traipsed around the rocks and bluffs overlooking the river. We stumbled upon a stromatolite, which is an ancient life form that is presumed to be one of the first organisms to produce oxygen gas (O2) on a large scale.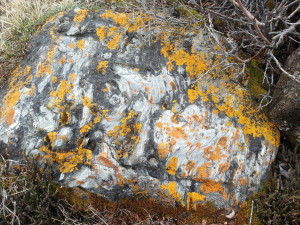 The presence of stromatolites in oceans around the planet dramatically changed the composition of earth's atmosphere.

How did it end up on a cliff in northern Canada? Two of the usual suspects of global rearrangement, continental drift and glaciation, most likely deposited this ancient organism at its current location.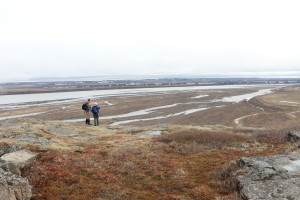 We explored the bluffs and eventually found ourselves on a four-wheeler track ("quad" as they are referred to in Canada) that lead into the lowlands toward the river.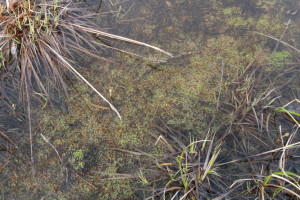 The ground squished and slurped every step we took. It had an uneasiness about it that made me wonder what our steps did to the soil as we carefully made our way across the delta, or floodplain, of the river.

Greg described the soil here as walking on a wet mattress. With every step the ground shifted as though on springs. Water seeped into every footprint.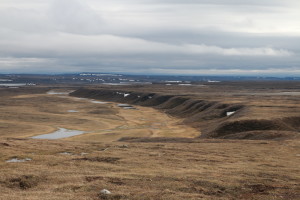 The delta of the river was saturated with water. I quickly regretted not wearing my rubber boots. We sloshed along further. Several times, I reached sections of the trail where water lapped at the rim of my boots, waiting to flow over at any moment if given the opportunity. We reached a creek that was too wide to cross and turned around. The hills gracefully rose to our left again as we proceeded back toward town.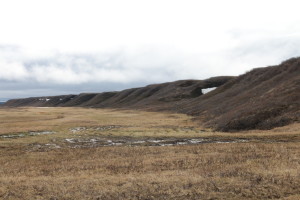 This was my first experience with arctic tundra, and more specifically arctic tundra that was no longer frozen. As the project progresses I presume this will become much more commonplace as the ground continues to warm and thaw for summer.
Fog moved in as we sat down to dinner, which prevented any further exploration.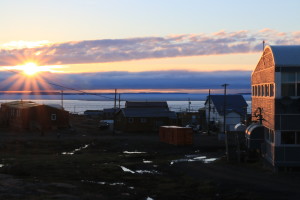 I caught up on a bit of work and sat in the common room of Enokhuk Inn with a cup of coffee in hand until late in the evening. The side of me that is always on the go wanted to be out in the field again. On the flip side, there was something special about the peace and quiet that can be found up here if one is willing to listen. It is easy to find noise in many places these days, but it can be much more difficult to find quiet. I closed my computer and finished my cup of coffee while the sun drifted close to the horizon behind the sheet of fog.